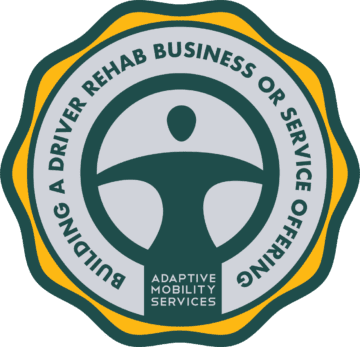 Last month, you learned all about Implementing Driver Rehab Services into your Practice by gaining the knowledge and skills necessary to conduct driving risk assessments. Now, it is time to take the next step and consider becoming a Driver Rehab Specialist by completing our PART 2: OT Driver Rehabilitation Specialist Training. 
Our Part 2 offers hands-on behind-the-wheel training that is one of a kind and specifically designed for occupational therapists. This training was created to help develop your skills and confidence while gaining valuable first-hand practice as a driver rehabilitation specialist. When completed, you will earn your certificate as an OT Driver Rehabilitation Specialist – OT DRS. 
What is an OT DRS?
An Occupational Therapist Driver Rehabilitation Specialist (OT DRS) is a professional certificate that attests the OT has completed sixty hours of advanced education, and passed content-based examinations, focused on occupational therapy's role in driver rehabilitation with Adaptive Mobility Services. The certificate is achieved by completing both PART 1 and PART 2. 
As an OT DRS you will be able to provide comprehensive driver evaluations, in-vehicle assessments, adaptive equipment training, and vehicle modification assessments. Whether you are starting your own private practice or working for a larger healthcare system, these skills and coaching strategies will be a fundamental part of your work. 
What can I expect from this course?
In order to make the most of your hands-on training, this course starts out online with 7 self-paced modules
Module 1: Grading Vehicle Evaluation & Training

Module 2: Preparation for In-Vehicle Work

Module 3: Driver Rehab Specialist In Vehicle Preparations

Module 4: Driver Rehab Specialist Cuing from the Passenger Seat

Module 5: In-Vehicle Evaluation & Training Strategies

Module 6: Introduction to Driving with Adaptive Equipment

Module 7: Summarizing the In-Vehicle Process
Once the online portion of the course is complete, you will be ready for the live 3-day workshop. In this workshop you will spend three days practicing your new skills in a driver rehab vehicle by learning how to drive and instruct others on usage of low tech adaptive equipment including a variety of hand controls, a left foot accelerator, and steering devices. 
What else should I know about this course?
This course is instructed by Susie Touchinsky, OTR/L, SCDCM, CDRS, owner of Adaptive Mobility Services. Most of the live workshops take place in Orwigsburg, Pennsylvania, a small suburb outside of Harrisburg, that offers a range of ideal driving environments. 
You can sign-up for our next PART 2: Driving Rehabilitation Specialist Training that is taking place on September 14-16, 2022.
Space is limited to ensure that each attendee gets maximum hands-on time in the vehicle, so make sure to register today.
If you are interested in hosting a Take the Wheel Workshop in a different location, you can reach out to Susie for additional details.  
As an occupational therapists, we know that you love to help others achieve their goals. By adding a new area of specialization to your practice as an OT DRS, you can not only help clients achieve their driving goals, but you can also add value to your practice. 
To learn more about this course and the others that we offer, visit our website for more information. 
Occupational therapy practitioners who complete Adaptive Mobility's Part 1 & Part 2 training to enter the field of driver rehabilitation as an OT DRS are then eligible to pursue the DRP digital badge and eventually CDRS offered by the Association for Driver Rehabilitation Specialists.