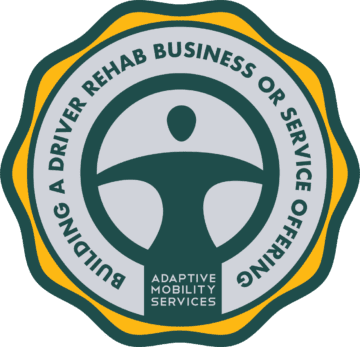 Now that you have decided to add driver rehab services to your practice, you need to determine how you will market them. First, answer the question – what is your goal for this program? Are you hoping that driver rehab becomes a cornerstone service you provide? Or, is this just a tool to have in your toolkit in case it's needed? 
If you are hoping to build these services into a strong offering, you'll need to market them effectively. Consider using some of the following marketing tactics:
Create A Website!
Now-a-day, whether they are 16 or 80, your clientele will start their search on the internet. Your website needs to be easy to find and easy to understand. Make sure that you have a simple page or site that clearly explains what you offer and what it would be like to work with you. Don't overwhelm your visitors with too much information. Keep it simple, and encourage them to reach out. 
On the backend, make sure to keep an eye on your website analytics. It is important to know the demographics of those who are visiting your site. This can help you narrow down your target audience and reach the right people. 
Use Social Media To Your Advantage!
Besides advertising on your own social media pages, it is important to join online communities such as Driving Rehab for the OT. Being active in communities like this will help you improve your reputation, be more accessible to your clients, increase your networking efforts, and help you gain insight into what your clients are looking for. 
You can stay active by commenting on posts to answer questions, posting questions of your own, or sharing relatable resources. You may even find it helpful to start a community of your own and get others involved. 
Meet Your Referral Partners!
Many driver rehab clients will find you because their doctor told them they needed your services. If you haven't already, it's time to make yourself known to the doctors and physical therapists in your area. Take time regularly throughout the year to stop into local offices and make yourself and your services known. Collect email addresses and start a networking email list. You will then be able to send informational emails regularly and stay in the forefront of their minds. 
Other local businesses can be wonderful to network with as well. Team up with massage therapists, fitness instructors, chiropractors, home health aids, medical supply companies, and transportation services. The more people that know you and what you offer, the more referrals you are likely to get.
Get Active In Your Community!
A large population of your audience will most likely be senior citizens. Take a look around your community and find out where they are. Think about the services that seniors use most and where they are likely to socialize. Then, offer to speak at events and locations that attract your audience. You can even offer in-person or virtual information sessions to discuss common questions and concerns about your services.
Beyond direct contact, think of other ways to be known within your community. Sponsor a local sports team, volunteer your time at local charity events, or join your local Chamber of Commerce. The more exposure you have in your community the better! 
Be A Resource!
Chances are that after all of your training, you're a wealth of knowledge! Be the resource that others are looking for. You could start your own blog, create email marketing campaigns, send out a monthly newsletter, or even start your own podcast like OT Driving with Susie Q.  
As people begin to seek out and trust your advice, your credibility will increase. Clients and their families will want to work with someone they know is knowledgeable and trustworthy. 
Don't Be Afraid To Advertise!
We know that building meaningful relationships is the best way to market your business, but that doesn't mean you have to rule advertising out completely. Think about creating Google or Facebook Ads, placing an advertisement in the local newspaper, or speaking on a local radio or television station. Mapping out what you can afford prior to obtaining pricing, will help you stick within your budget. 
Lastly, make sure you are listed everywhere! There are several review sites and directories that you can list your business with. Google Business can be a great place to start by making a profile. The most listings you take part in, the more likely you are to populate on search engine results.
However you want to start marketing your new business, the best piece of advice is not to give up! It takes time and consistency to build a successful business through your marketing efforts, but over time you will start seeing results. As clients leave positive reviews or refer you to a friend, you will see your business start to grow, and that makes every effort worth it!