Are you experiencing tingling in your feet?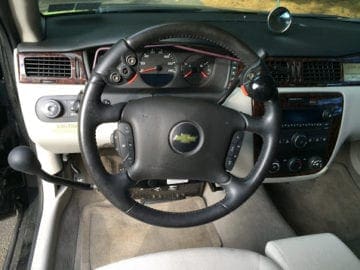 Tingling or numbness in your feet could be a sign of sensation loss. Sensation changes in our feet can happen for lots of different reasons. From diabetes to neuropathy to spinal cord injuries, sensation loss in your feet can impact safe driving.
We rely on sensation while driving to:
Know where our feet are when they are under the dash
Find and press on the brake pedal
Regulate pressure for the gas pedal
Drivers with diminished sensation are at a higher risk for:
Hitting the wrong pedal
Slipping off of the brake
Having difficulty stopping or controlling the car.
Sensation changes can lead to increased crash and safety risk.
A driver rehabilitation specialist (DRS) can help by teaching drivers to use hand controls. Hand controls allow the driver to use one hand to control the brake & gas, while the other hand steers.
There are different types of hand controls. Your driver rehab specialists help to select the best type and then provides training. The number of training sessions ranges based on the driver. Training teaches the client to drive with his/her hands and in Pennsylvania, helps to prepare the driver for the DMV driver test. Once the driver passes the test, an updated license is issued.
From there, your driver rehabilitation specialist writes a prescription for the equipment and special equipment vendors complete the installation. We have several of these vendors in the Harrisburg, Hershey, and Allentown area.
Listen as this driver talks about her experience with Adaptive Mobility: