Talking to seniors and the elderly about driver safety can be a tricky conversation. While it may seem easier just to avoid, as the family member or caregiver, safety for your loved one and others is of critical importance.
Adaptive Mobility Services work with families and caregivers every day providing driving evaluation for seniors and determining outcomes that are right to assure safety and rebuild driver confidence. We are here to do the same for you.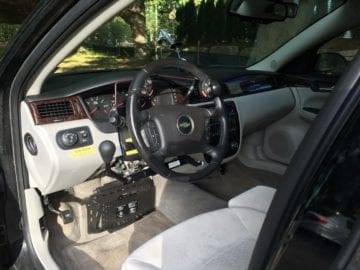 Here are a Few Key Points about Adaptive Mobility:
While driving is one of the ultimate badges of independence that is typically enjoyed for years, changes over time from aging or due to medical conditions can lead to increased driving risk. The reasons for a reduced or impaired driving ability are many and can be subtle or come on quickly.
If a family member or person in your care shows any of these changes or other characteristics, it may be time to enroll in our thorough program of driving evaluation for seniors:
Slower reaction time
Shorter attention span
Lagging reflexes
Stiff joints or weak muscles
Poor eyesight
Diminished night vision
Hearing problems
Reduced memory
Poor decision-making skills
Forgetfulness
Drowsiness or medication effects
Increase in accidents or near misses
Physical impairments
Recent major medical illnesses or events
Increased anxiety and agitation
Frequent falls
Driver safety requires as much mental activity as physical capability. Being able to safely operate a vehicle affects everything from using mirrors to see clearly to effectively turning the steering wheel to moving a foot between the gas and brake pedals to being able to use headlight and windshield wiper controls.
Driving Evaluation for Seniors
Adaptive Mobility Services driving evaluation for seniors is a comprehensive assessment to determine driving ability, identify areas of concern or in need or support, and to develop a travel plan that meet the driver's skills. Our driving assessment is objective and offers clinical evaluation, behind the wheel assessment, and reasoning to guide recommendations.
Adaptive Mobility Services driving evaluation for seniors includes:
Clinical assessment of sight and movement ability, driving and geographic memory, and driver decision making
Appraisal of behind-the-wheel driving skills
Exploration discussion of possible solutions including suitable training requirements, driver rehab, adaptive driving technology recommendations and training, or driving retirement.
Although family members and caregivers are concerned, seniors also experience driving anxiety and reduced confidence. Our programs strive to resolve and alleviate pains and fears all around senior driving. We offer driving evaluations for seniors from the comfort of the driver's home.
Pennsylvania's Expert Driver Assessment and Rehabilitation Services
Adaptive Mobility Services provides comprehensive driver evaluation and driver rehab services that are backed by years of specialized occupational therapy driver assessment and rehabilitation experience.
Serving southeastern Pennsylvania including Allentown, Harrisburg, Hershey, Reading, Pottsville, Orwigsburg, Philadelphia, and throughout the area, Adaptive Mobility Services is a true partner to achieve driving confidence and certainty for safe outcomes for all.
Call us at (484) 650-2280 for a free 20-minute driver safety consultation. Or complete our quick Driver Safety Quiz to determine if Adaptive Mobility Services are right for you or a family member. We are here to help you move forward.