We love to drive and know you do to! Sometimes a medical condition or injury can get in the way of our driving. Let us help you to know if you are ready to get back behind the wheel by participating in our comprehensive driving evaluation.
If you are experiencing any of these changes or other characteristics, you may benefit from a driving evaluation with us: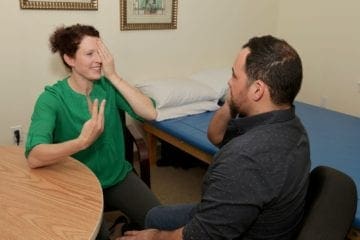 Slower reaction time
Shorter attention span
Lagging reflexes
Stiff joints or weak muscles
Poor eyesight
Diminished night vision
Hearing problems
Reduced memory
Poor decision-making skills
Forgetfulness
Drowsiness or medication effects
Increase in accidents or near misses
Physical impairments
Recent major medical illnesses or events
Increased anxiety and agitation
Frequent falls
Our friendly driver rehab specialists are here to help you and are with you every step of the way! Your visit starts with a 3 step comprehensive driving evaluation.
Here are a Few Key Points about Adaptive Mobility:
Our driving evaluation includes an in-vehicle time to observe real driving potential
We are local & will travel to your home
Outcomes are reviewed directly with you and your family
Prompt, clear, and timely evaluations are provided
We are well versed in the PennDOT Medical Review process and able to provide support
Adaptive Driving Equipment
Are you thinking you might need equipment for driving? We can help with that too! Our driver rehab specialists are skilled at identifying and training drivers to use a range of equipment including hand controls, left foot accelerator, and steering devices. Adaptive driving equipment training involves a comprehensive driving evaluation, individualized training, support for state's relicensing process, equipment prescription, and fitting to ensure equipment works in your own vehicle.
To enroll in our program, you will need a valid driver's license and an order from your doctor for "Occupational Therapy Driving Evaluation & Treatment."
Suspended Driver's License
Is your license suspended? We can help with that too! Call us to learn more.
Are you a new driver? We provide adolescent driver readiness evaluations and referral to a driving school for driving lessons.
The driving evaluation costs $350 to $550, depending on distance from our program's office in Schuylkill County. To determine cost to your client, please feel free to contact us!
Pennsylvania's Expert Driver Assessment and Rehabilitation Services
Adaptive Mobility Services provides comprehensive driver evaluation and driver rehab services that are backed by years of specialized occupational therapy driver assessment and rehabilitation experience.
Serving southeastern Pennsylvania including Allentown, Harrisburg, Hershey, Reading, Pottsville, Orwigsburg, Philadelphia, and throughout the area, Adaptive Mobility Services is a true partner to achieve driving confidence and certainty for safe outcomes for all.
Call us at (484) 650-2280 for a free 20-minute driver safety consultation. Or complete our quick Driver Safety Quiz to determine if Adaptive Mobility Services are right for you or a family member. We are here to help you move forward.