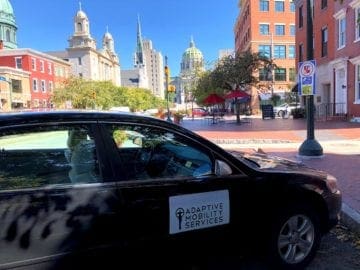 Adaptive Mobility Services is committed to helping drivers recover in the communities they live in! Let Adaptive Mobility Services come to you at your home! Offering exceptional driver evaluations from the comfort and security of your own home & community.
Adaptive Mobility excited to travel to Harrisburg, Mechanicsburg, Camp Hill, & Carlisle for your driving appointment. Let us bring you peace of mind, by meeting you at your home and working with you on familiar roads in your community!
We are excited to support a range of doctors & groups including:
Geisinger Holy Spirit Neurology
Encompass Health Rehabilitation Hospital of Mechanicsburg
Penn State Hershey
Vitality to You
As well as a range of private family doctors
Did you recently complete a pre-driving screen at Encompass Health Rehabilitation Hospital of Mechanicsburg? And are now ready for the behind-the-wheel evaluation? We can help with that too!
Learn on the quiet roads of your neighborhood and then advance to managing the traffic on Carlisle Pike, highway 581, the PA turnpike, and more. And if your journey includes a trip to Carlisle or Harrisburg PennDOT Center, we are with you every step of the way!
For a complimentary quote & to schedule your driving evaluation, please email susie@adaptivemobility.com or call 484-650-2280. 
Please note, a small travel fee does apply to cover fuel expenses to all locations outside of Schuylkill County.