Are you concerned your driving skills are declining, but can't pinpoint specific issues? Are you worried about a family member's driving ability? Is there an increase in driver accidents or a family member getting lost while driving?
Concerns like these may signal the need for a driver evaluation.
Need for Driver Evaluation
Driver safety issues come in many forms. Feeling overwhelmed at an intersection, exhausted after driving in town, hitting the wrong pedal, or feeling like others on the road are driving too fast, are just some of the signs that may signal the need for a professional driver evaluation.
Professional driver evaluation identifies impairment issues that may unnecessarily increase the risk to a driver and others. Changes in driving ability can result from many problems and conditions: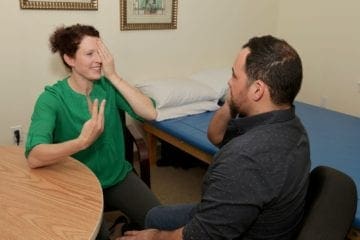 Slower reaction time
Shorter attention span
Lagging reflexes
Stiff joints or weak muscles
Poor eyesight
Diminished night vision
Hearing problems
Reduced memory
Poor decision-making skills
Forgetfulness
Drowsiness or medication effects
Increase in accidents or near misses
Physical impairments
Recent major medical illnesses or events
Increased anxiety and agitation
Recent falls
Online Driver Safety Quiz
The Adaptive Mobility Services Driver Safety Quiz is a quick and easy first-step to determine if a driving evaluation may be needed.
The quiz will give you a quick indication if issues may exist about your driving ability or help to validate concerns you may have about your loved one's driving. Whether your Driver Safety Quiz results indicate a problem, or you would like to move forward for a comprehensive and professional driver evaluation, Adaptive Mobility Services is here to help.